Hey Lovelies,
I know this is a day late, but my internet had a freak out last night and wouldn't let me post it, so here is 'Wicked Wednesday' with a naughty treat for you.
Ingredients
1 1/2 cups of plain flour (spooned and leveled)
1 teaspoon of baking soda
1 cup of peanut butter (smooth or chunky)
4 tablespoons unsalted room temperature butter
1/2 cup packed dark-brown sugar
1/2 cup of granulated sugar
2 large eggs
8 ounces of your chocolate of choice cut into chunks
In a large bowl beat together the peanut butter, butter and sugars with an electric mixer when light and fluffy add eggs and beat until smooth. Now with the mixer on low gradually add the flour mixture, continually beating until it is all combined.
Once you have your mixture stir in your chocolate chunks, I prefer to use cut up chocolate as I like the different textures alongside the crunchy peanut butter but for ease you could just use chocolate chips.
Once mixed put tablespoon sized amounts onto a baking sheet and pop into the oven at 160 degrees for 13 -15 minutes turning the tray after 7 minutes. One baked transfer cookies from sheet onto wire rack to cool.
These cookies go perfectly with a glass of milk, and if your feeling very naughty and rather uncouth then give them a dunk!
These are seriously sinful and devilishly delightful so give them a go!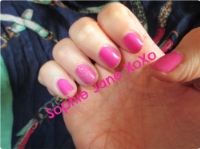 You can now follow me on

Bloglovin'