Hey Lovelies,
So today's nail makeover was with Essie's
Sunday Funday
(£7.99 Superdrug) and a little signature nail in Revlon 'Girly'. 'Sunday Funday' is from the Summer 2013 Naughty Nautical Collection and is an orangey toned coral with glistening shimmer. essie describes 'Sunday Funday' as a "tangerine coral crush shimmer" and it is true to its word, it is an orange based creamy polish with a splash of coral. I found the formula easy to work with, I had to use two coats to reach full opacity but that's pretty normal for essie polishes. I am also in love with the subtle sparkle, its just that little bit extra and sparkles in the sun! Overall I'm loving this orange/coral and think it will be perfect for fingers and toes, its a lovely vibrant colour but has an air of sophistication that some brights don't give you, it's a winner for the summer.
Revlon Girly
(£6.49 Superdrug) is a gorgeous dusky milky pink sheer nail polish within which is suspended pink, purple and silver glitter of varying sizes. This polish is sugary sweet like candy floss and screams girly girl, but is definitely walking the tacky tightrope, but if people think this is tacky then I am going to be a tacky gal! I don't know if I could wear this on every finger, but I may have to give it a go, it definitely needs to go over another nail polish either a white or a pink, but I have to admit to falling for this little bottle of glitter.
Has anyone else been enjoying these colours?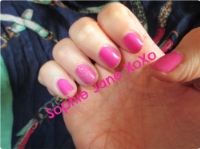 Follow me on

Bloglovin'