Hey Lovelies,
Yesterday I went on a little excursion to Heale Gardens, however it wasn't to wander around the BEAUTIFUL gardens it was a little trip to the nursery and coffee shop, pretty darn good trip if you ask me! As I had my blogging hat on I thought I would bring you lovelies along for the ride, so here are the pics I took of the lovely old greenhouse and the cute as, tearoom.
Greenhouse
Tea Room
The nursery surrounds the tearoom all in neat boarders and olde-worlde greenhouses, once we had had a little wander around we popped inside for a little drink, we all had a glass of Elderflower which I thought was yummy, but my brother thought was too sweet but my teetotal taste buds have tried a lot of Elderflower cordial.
Yummy cakes!
We didn't have any cake or a scone but they did look scrumptious, and if it was teatime I would definitely have tucked into a piece of Victoria Sponge.
Elderflower
Eggs anyone?
I loved the outside shelter with its mismatched chairs, cute tablecloth with little hand painted S+P shakers and sugar pot.
Has anyone else been on any little excursions this week?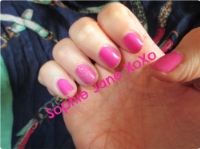 You can follow me on

Bloglovin'